ILoveSoFla.com
South Florida Real Estate
Buy
Congratulations!  You have finally made the decision to take the step and buy real estate.  Whether this is your first purchase or 15th, for your primary residence, vacation home, or investment real estate, there are steps you need to go through to ensure the process is a smooth one.
The first step is to get pre-approved by a lender for a loan.  This can be directly from a bank you do business with or through a mortgage broker.  This is the most important step to take.   Once you are pre-approved, you will know how much house or building you can afford or better yet, how much of a house or building you feel comfortable with.  The lender or mortgage broker will give you an idea of what your monthly costs will be and will give you a Good Faith Estimate of closing costs to let you know how much money you will need to bring to the closing table to finalize your purchase.
Know what you are looking for.  Once you are pre-approved, decide what your ideal neighborhood, home, or investment property would be.  Are schools important or is it more important that you be close to work?  Determine what the "must haves" are.  These are the specifics of the property or neighborhood that you are not willing to give up but would be willing to sacrifice a "nice, but not necessary" for.  This could be an extra bedroom, pool, specific school district, waterfront criteria etc.  Knowing what you are looking for both in a neighborhood and home or investment property is extremely important as it will help keep you focused.  Once you narrow down your wants, you will realize you don't have to look at everything on the market, only those specific properties that meet your criteria.
Work with a Realtor!  I know that sounds like something I would say since I am one but, whether you work with me or another Realtor, a knowledgeable Realtor really will be able to make the process easier.  This is my career and I specialize in getting the information you need all in one place.  Even if you are a master websurfer, I can help you by giving a one-stop shop for answers, resources and information you will need to make your buying decision. I will even create your own website for you so you can surf the MLS instead of having to go to every real estate site on the web.
---
Situated in the front portion of a deep, corner lot in Pinecrest, Florida, 5995 SW 91 Street is a 4 bedroom 3 and a half bath home with plenty of space both inside and out. The rooms are spacious and the pool and back yard are absolutely gorgeous for spending afternoons and weekends. Take a look at this virtual tour and imagine yourself home!
I usually save my market updates until the end of the quarter, but with so much activity going on I figured I should write a quick snapshot in case you are thinking of buying or selling a home in the next couple of months.
Since January first of this year, there have been 58 new listings of single family homes for sale in Pinecrest. Out of those new listings, 13 are already under contract, two are short sales and one is a foreclosure. A total of 17 homes have gone under contract since January first and there has been one closing, which is pictured above. The majority of the pending sales were for homes under $1,000,000. Six of them are short sales and one is a foreclosure.
If you are thinking of selling, now is the time. There are buyers out there looking and if your property is priced right, it will go under contract quickly. If you are a buyer who has been looking for a while, don't hesitate in making a solid offer when you see the house you like.
Today during our open house tour, I was pleasantly surprised with a series of new
single family homes for sale in North Coral Gables
. With the exception of 1220 Capri, which is beautifully updated, these are all
Old Spanish homes
that have been modernized without losing the character that buyers of Old Spanish homes look for.
All listings are courtesy of EWM International Realty.
Based on EWM's activity this week, it appears we may be starting to get into a more neutral market. EWM's Coral Gables'/South Miami office did over $22.5 million worth of transactions this week, with an almost even split between sales (26), and leases (24). Seven of the sales were over $1,000,000.
Eight out of the 15 sales listed under $500,000 went for at (4) or above (4) asking price. Although that is pretty indicative of the seller's market we have been in, we also added 27 new listings and had 17 price reductions. With the increase in inventory, if your home has been on the market for over 30 days it is time to decrease your list price. We are expecting inventory to increase every month as we move closer to the Spring listing season.
The U.S. Senate passed legislation that would delay flood insurance increases on properties whose rates were set to increase once they were sold, that had their flood zones changed when the maps were updated, or that were previously grandfathered in. Although the House is unlikely to approve the four year delay, they are working on a bill that would cap the increases to no more than 15% per year. That is still likely to put pressure on pricing of homes that are for sale in flood zones. The white zones on the map below are in flood zone X and currently do not require flood insurance.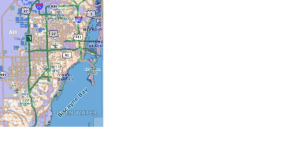 With South Florida rentals in high demand, increasing rents, and available rentals low, investors are searching for multifamily properties. According to LoopNet, 9 out of the Top 10 Most Popular South Florida Properties were multifamily.
Here are some multifamily properties for sale in Miami areas with high rent demand.
On December 20 I wrote a post about some changes to federal laws that may affect Miami's real estate market in 2014.  I neglected to include two more (well one is a Florida State Law, but I will include it here anyway).  The first one I thought would be extended by now, but since we are coming up on New Year's eve I thought I should mention it in case Congress lets it lapse.  It may not be that big of an issue since, due to the rising real estate prices, many real estate owners are no longer under water but the tax deduction on forgiven mortgage debt will end on January 1, 2014.  Although there are many benefits to short sell, even without the tax benefit, instead of foreclose the sun-setting of this deduction could decrease the number of short sales sellers participate in.  Should seller's stop participating in short sales, this will put pressure on already short inventory since the foreclosure process usually takes longer.  Which leads me to the second change.
HB 87, the Fair Foreclosure Act, went into effect on June 7, 2013, but we will really start to see its affects in 2014.  Known as the "Speedy Foreclosure Law", this law will help speed up the foreclosure process.  Prior to passage of this bill, foreclosing on a mortgage took approximately 853 days, which was more than twice the average.  This should help ease some of the shortages in inventory by getting at least a portion of the 350,000 plus foreclosure cases currently tied up in Florida courts through the process much faster.
The Federal Reserve announced on Wednesday that starting January it will begin scaling back its bond purchase program from $85 billion per month to $75 billion per month.
2012's Biggert-Waters Flood Insurance Reform Act, if not modified, will continue to affect owners of older homes who have subsidized flood insurance.  A 25% increase in insurance is a large amount to assimilate all at once and makes it more difficult to sell those properties if a mortgage is involved.
New FHA loan limits take place January 1, 2014.  For high cost areas, the new national loan ceiling limit will decrease from $729,750 to $625,500.
The economic outlook for the Sunshine State is extremely positive. TD Economics, an affiliate of TD Bank, estimates that Florida's economic growth will grow from 2.4% this year to 3.5% in 2014 & 4.0% in 2015.  This growth is largely due to the increase in domestic in-migration, which has led us to knock New York out of the spot for third most populous state.  The growth in population is fueling demand for construction and construction workers for residential, commercial, and infrastructure projects, such as the one at PortMiami.
Total sales (24) still outnumbered total new listings (11), which is to be expected in the middle of the holiday season.  Buyers are still out in full force and are purchasing in all price ranges.  The highest sale in our office was the home pictured below.  It sold for $7,030,000 and was listed by EWM.