ILoveSoFla.com
South Florida Real Estate
Buy
Congratulations!  You have finally made the decision to take the step and buy real estate.  Whether this is your first purchase or 15th, for your primary residence, vacation home, or investment real estate, there are steps you need to go through to ensure the process is a smooth one.
The first step is to get pre-approved by a lender for a loan.  This can be directly from a bank you do business with or through a mortgage broker.  This is the most important step to take.   Once you are pre-approved, you will know how much house or building you can afford or better yet, how much of a house or building you feel comfortable with.  The lender or mortgage broker will give you an idea of what your monthly costs will be and will give you a Good Faith Estimate of closing costs to let you know how much money you will need to bring to the closing table to finalize your purchase.
Know what you are looking for.  Once you are pre-approved, decide what your ideal neighborhood, home, or investment property would be.  Are schools important or is it more important that you be close to work?  Determine what the "must haves" are.  These are the specifics of the property or neighborhood that you are not willing to give up but would be willing to sacrifice a "nice, but not necessary" for.  This could be an extra bedroom, pool, specific school district, waterfront criteria etc.  Knowing what you are looking for both in a neighborhood and home or investment property is extremely important as it will help keep you focused.  Once you narrow down your wants, you will realize you don't have to look at everything on the market, only those specific properties that meet your criteria.
Work with a Realtor!  I know that sounds like something I would say since I am one but, whether you work with me or another Realtor, a knowledgeable Realtor really will be able to make the process easier.  This is my career and I specialize in getting the information you need all in one place.  Even if you are a master websurfer, I can help you by giving a one-stop shop for answers, resources and information you will need to make your buying decision. I will even create your own website for you so you can surf the MLS instead of having to go to every real estate site on the web.
---
Our Coral Gables office had another great week with over $15 million in sales. Out of our 17 sales, four went for asking price and two went over asking. There were 17 new listings. For an overall market update, check out our video.
Our office had another incredible week, with a total of $50,208,640 in real estate sales.  The bulk of that was for a vacant 1.74 acre lot at 301 SW 8 Street.  It closed for $20 million.  We also had several residential sales over $3 million.  Overall, the number of sales were twice as many as new listings.  We had 30 residential sales and only 15 new residential listings, further evidence that inventory is still tightening.  Demand is high from buyers, and sellers are less likely to list going into the holiday seasons.
If you are planning on selling in 2014, consider putting your home on the market now, while the inventory is low.  You will beat the rush of sellers that list their homes in the first part of the year.
Another banner week at EWM, with our Coral Gables office sales for the week totaling over $23,000,000 and our Miami Beach office totaling over $12,000,000!
EWM's Gables office had 24 sales, with 7 going at or above asking, and 23 new listings, 6 of which are foreclosures.
Sales are going strong due to a still- limited inventory and strong demand from buyers trying to get into the market.
The lack of inventory in Miami's real estate market resulted in 5 of EWM's  Coral Gables' office sales going under contract for above asking and 2 going at asking this week.  Considering we had 17 sales, that bodes pretty well for well-priced listings that are about ready to come on the market.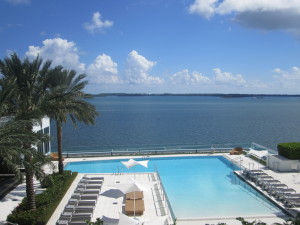 Unobstructed water views from this spectacular unit, which has been professionally designed by Adriana Hoyos.  Enter your private foyer directly from the elevator, open your front door and water views greet you.  The spacious unit includes two bedrooms, a den, 3 full baths, large kitchen with built-in Miele coffee maker, wine refrigerator, Subzero, and laundry room with a utility sink.  At $1,150,000 it is the lowest priced unit in the popular "9″ line of the modern state-of-the-art Jade building.

Several changes to the previously government subsidized flood insurance program will affect you.  If you are staying in your home:
If your flood zone is in any A or V zone, including AE, AB, AH, your flood insurance premiums will be increasing 25% per year until the premiums come in line with the actual flood insurance rates
If your flood zone is in B, C, or X, your premiums will increase 20% per year until the premiums match the actual flood insurance rates
If you are buying a home, the new flood rates will affect how much of a mortgage you qualify for.
If you are selling your home, have your flood elevation certificate on hand to provide it to the new buyers.
We are already half way through October and almost at the end of the year.  2013 will probably break another record in terms of the number of real estate sales we have had in Miami-Dade County.  A quick snapshot of the Pinecrest real estate market shows the following:
205 single family homes have closed since January 1, 2013.  12 were short sales, 4 were bank-owned
 47 of the closed sales were between $1 million and 1.999.999.  25  were over $2 million.  Highest sale to date this year was for $3.8 million.
 42  single family homes are under contract, over half are distressed sales.  21 are short sales and 2 are bank-owned
out of the 42 pending sales, only 15 are listed for over $1 million, none are listed over $2 million
127 single family homes currently listed for sale, 5 of which are short sales and one is a bank-owned property
90 of the homes that are currently listed are over $1 million, 42 are listed over $2 million
Since October 1, there have been 11 new listings, 2 of which are short sales, and 2 homes have gone under contract.  So far, there have been no closed sales in October.  Going forward, I expect the inventory to increase slightly until Spring, at which point I think we will see more inventory come on the market.  I still expect properties priced from $600,000 – $1 million to move fairly quickly.
If you are a buyer, especially in the luxury price range, you will have a lot to choose from and have more negotiating room.
If you are a seller, you will want to price your property so that it sells before the inventory increases in the Spring.
Well, it finally happened.  My neighbor has sold his home on a beautiful, tree-lined, deep lot in north Pinecrest.  It is not quite an acre, but I am guessing a huge home will be going up on the site.  I hope I am wrong and that our soon-to-be-new-neighbor will appreciate all of the wildlife their back yard is home to and remodel instead of tear down and build the maximum allowed home.  Over the years that we have lived in our house, we have enjoyed seeing fox and watching  large predatory birds nest and raise their young in our neighbor's yard.
We are lucky to live in the Village of Pinecrest, which like many cities in Miami-Dade County, has landscaping regulations that include tree preservation, but I have witnessed lushly grown lots be completely bulldozed to accommodate  homes that cover the majority of the lot.  Once built, small oaks and palm trees are planted in the front and back yards with shrubs planted around the sides.
The house below is a great example of how existing trees can be incorporated into new construction.  The house on this lot was torn down but many of the trees were kept.  They provide shade and character for the house as well as a canopy to shade the street.
These numbers include all of the listings posted in the MLS through August.  A search of the MLS for September shows 24 new listings in Pinecrest ranging from $599,000 up to $3.9 million, no closed sales, and 8 pending sales.
A couple of weeks ago, I wrote a post about how cheap flood insurance is if you don't live in a flood zone.  After last Wednesday's heavy rains, even many of us who do not live in flood zones witnessed flooded streets and front yards.  Before you go out and buy  flood insurance, you need to be aware that on Tuesday, October 1, federal flood insurance rate hikes kicked in.  That does not mean you should not get the insurance, since it is still affordable compared to other forms of insurance, but depending in what flood zone you live or are buying, in, the rate hike could increase nearly tenfold.  If you purchased prior to July 6, 2012, the increases will be at 25% per year until you reach the new non-subsidized rate.  Many states, including Florida, are trying to delay the federal hikes until the impact on the real estate market can be taken into consideration, but the current congressional stalemate has tied up the bill.
The second insurance factor to consider when buying your home is hurricane insurance.  By now everyone has heard that Citizen's, our insurer of last resort, wants to get out of the insurance business and is giving incentives to smaller insurance companies to take over windstorm insurance.  Although wind mitigation discounts are still given, there is a good chance that insurance premiums are going to increase fairly significantly.  Both of these insurances should be taken into consideration in your financial calculations when you are purchasing your home.  Phil Lyons, at Insource Insurance, can assist you in determining how much properly insuring what is most likely your biggest asset will cost.