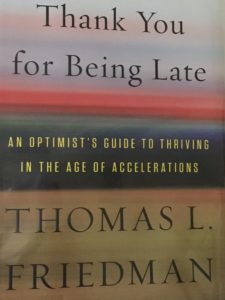 I just finished reading Thank You For Being Late by Thomas L. Friedman and think it is a must read for every politician, business leader, employee, employer…basically every one who needs to understand what is going on in the world today.  A timely read, it definitely is not a book to speed read through.  I found myself taking time to reflect on what the author was saying, how it applies to me, my family, my job, my community, my state, my country, and then extrapolate that out to other countries and the world in general.
Although he explores complex and interlacing issues that are accelerating at a dizzying pace due to Moore's law, he also offers insight, both his own and others', about how these issues can be addressed.  He acknowledges it won't be easy, but a lot of the solutions boil down to trust, trees, community, dining room tables and chickens. Yes, chickens.
There were many quotable thoughts in his book, but some of my favorites, especially because of my long real estate career, recent conversations I have had with my husband about moving, and the fact that I live in Florida where hurricanes are a fact of life, several in the latter part of the book really hit home:
"I hope that it is clear by now that every day going forward we are going to be asked to dance in a hurricane…."
"…when people feel protected, respected and connected in a healthy community, it generates enormous trust."
"When there is trust in a room, people are more inclined to collaborate and experiment – to open themselves up to others, to new ideas and to novel approaches – and to extending the Golden Rule."
                 " …the more the world demands that we branch out, the more we each need to be anchored in a topsoil of trust that is the foundation of all healthy communities."
I have traveled extensively and moved frequently, but settled down in the Village of Pinecrest once my husband and I started raising our family.  In his chapters about Minnesota, I found a lot or similarities with South Florida.  Once you read the book, or if you already have, I would like to hear your thoughts.  Happy reading!