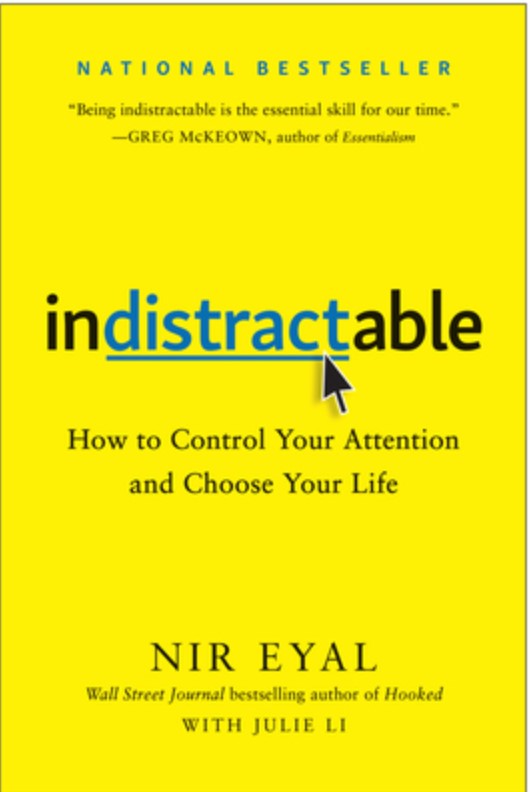 Yesterday, during Beth Azor's Rockstar Book Club, we discussed the book 'Indistractable', by Nir Eyal. In it, Eyal discusses the difference between external triggers (think social media, e-mail notifications, knock on the door by a colleague) and internal triggers (such as boredom, stress or fear) and how these triggers can lead us to either traction or distraction. The former moves us forward toward achieving our goals and the latter leads us away from them.
If we focus on the negative side of anything, we are vulnerable to distraction and, chances are, our outcomes will be negative. Many authors have discussed how we are hardwired to see things from a negative perspective. It is what has allowed us to survive and evolve. However, we can change the way we think about our triggers by identifying them, and coming up with several methods of dealing with the triggers. One of my favorites, was the identity pact. Here, you change the wording from a negative context (I can't eat meat, I am not an athlete, I have to exercise) to a positive one (I am a vegetarian/vegan, I am athletic/active, I exercise). By doing so, you will define yourself or the situation positively vs negatively and that will change your mindset. Saying "Remember to" vs "Don't Forget To" is similar.
This is not a new concept, but especially now, during a worldwide pandemic and when negative news and behaviors bombard us, I find it is worth remembering and practicing. What does this have to do with real estate? If your goal is to invest in real estate, open a business or expand or pivot a current one, avoiding the distractions and focusing on your goal will ensure that you can say, "I am a real estate investor/business owner".