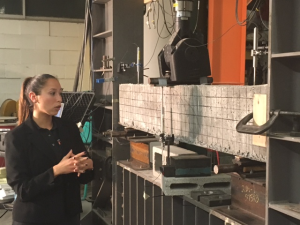 I was lucky to be invited to an evening reception and tour of University of Miami's College of Engineering labs.  Titled Engineering in the 21st Century:  Innovation and Sustainability, the evening started with a brief overview of the engineering program by Dr. Jean-Pierre Bardet, Dean of the College of Engineering and was followed by tours of several of their labs.  The work and research being done at UM is impressive, even to this non-engineer.  In addition to several breakthrough developments in cyber-security and health care, including addressing diabetes and creating eye prosthesis, there were two labs that were working on items that directly affect the real estate industry.
UM's Structures and Materials lab has developed a concrete using seawater instead of fresh water, which is a huge drain on our state's water resources, and a non-corrosive material that can be used instead of rebar in construction.  Imagine:  no more spalling, special assessments to replace condo balconies and longer life-span for bridges and sea-walls.
The Industrial Engineering Industrial Assessment Center, conducts energy assessments at no cost to manufacturing facilities in Florida and Puerto Rico.  These assessments can help manufacturers save energy and money.  Keep up the great research UM!